Hooray For Salami Day!
Hope you've got big plans for a evening out on the town, eating some delicious salami. If you prefer a relaxing meal at home, your local grocer should have a variety of delightful salamis to choose from. Or, if you're super lazy, order that pizza with pepperoni, one of the more popular types of salami. No matter what, have a great Salami Day, and wish all your friends a Happy Salami Day as well, as one good sausage party deserves another.
Salami Day Fan Art!
So the folks over at Proartweb Studio decided to make some amazing Salami Day fan art!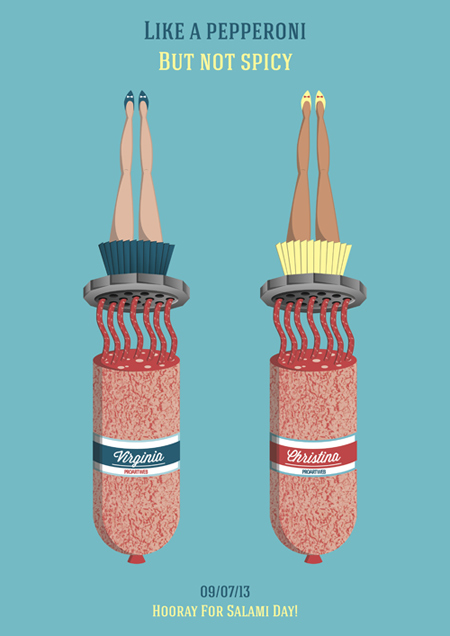 If you've made any Salami Day fan art, send it our way, because we'd love to see it!
Salami Day T-Shirts Are Here
It's the opportunity you've all been waiting for! You can now have your very own commemorative Salami Day t-shirt. Get your shirt now, and be the first one on your block to sport some hip Salami Day duds!
Salami on the Web
Here's a really sweet video all about a guy named Ben who just can't get enough salami!
Looking to brighten up a drab and meatless house? How about a lovely marble floor made of salami?
A more realistic approach to making your home salami-friendly might be with one of these salami rugs. Comes in five different varieties! All you need to do is figure out how to read German.
How about some delicious chocolate salami dessert? Even a vegetarian would appreciate this kind of sausage! And here's a great idea for salami nests!
If you're looking for a fun activity, why not try making your own plush salami?
A Brief History of Salami Day
Salami Day was started back in 2006 in Henrico, Virginia, by the Salami Appreciation Society. Salami Day (as well as the Salami Appreciation Society, for that matter), were the result of spontaneous inspiration on the part of the salami-loving founders, Virginia Roper and Christine Lucas. Word spread quicky about the new meaty holiday, and now every September 7th, salami fans across the world celebrate the joy of eating this delicious meat product. To start your own chapter of the Salami Appreciation Society, all you have to do is organize a salami-related party or outing on September 7th. It's that easy!
Salami is a too-often overlooked meat in the world of deli meats, and the Salami Appreciation Society felt that it, too, deserved its day in the sun. Salami has a rich history and is definitely a part of a healthy diet, providing important nutrients such as protein and potassium. It can be eaten in sandwiches and wraps, on pizza, and in countless other recipes. And no one can resist the ultimate allure of salami and cheese! Be sure to tell your friends about Salami Day this September 7th, so everyone can share in the joy that salami brings to the world.